This is a personal account of a couple that just downsized from a large 100 year old city home of 43 years, to a small beachside modern home, told by their realtor Sylvia Cameron.
ARE YOU READY TO FINALLY MAKE THE MOVE AND DOWNSIZE FROM THE FAMILY HOME?
After living in the city in their beautiful, 100 year old family home for 43 years, my clients just made the move to a small beach town and a much smaller, modern home.
First off they were both so glad that neither one of them was working any more, as they just didn't realise how much stuff had accumulated until it was time to really start packing and get ready to make the move.
Even though they began the process with a sensible 6 months prior, they found it still didn't give the downsizing enough time. Their advice to people approaching this event in their life, is to start cleaning our your home now, because it does take a lot of time and energy and planning. And if, like them you're a bit of a hoarder, it's time to get ruthless!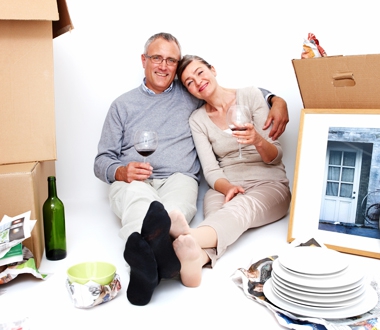 Break items down into categories
KEEP
SELL/GIVEAWAY
DISCARD
...and possibly an extra box to keep items that you're really attached to but you don't have room for in your new home, so will need to store.
Note: A good idea is to take digital photos of the contents of that box you need to store, so you know for future reference.
In my client's case they made no allowance for items they had not used in the last year and … there were no excuses allowed, like "I might need it one day!". Of course after living in a huge home 43 years, there was serious emotional attachment to many things; however, at the same time, there was an excitement at the thought of beginning their new life with less baggage.
Note: Don't make the mistake of giving away essentials. You'll still need cleaning products in your new home.
In their case the most difficult thing was leaving their beautiful garden that they had loved, cared for and spent so much time in, especially the two gorgeous trees that had given them so much shade from the summer sun and provided them with the abundance of birdlife to watch.
But people forget that you can take your memories with you and photos will always remind you of events and stories that took place. You will bring your own thoughts with you, so just because you leave the home, doesn't mean you have to leave all that has happened there.
If you are serious about simplifying your life, please don't get caught up in trying to hold on to too much. When changing up your lifestyle and downsizing, you can't take your old house with you!
You're more than likely moving into a totally different shape and style of home, so it's a case of not being able to push a square peg into a round hole.
Note: A good idea is to study the floor plan of your new home to evaluate the amount of space in the living room and bedrooms etc.
This way you'll find out if that large sectional couch you wanted to keep will be impractical for the new, smaller living room.
Take the time to choose the most functional and special pieces you will still utilize.
Select items that will give your new house that warm, cozy feeling and help to make it feel like home. Also look forward to finding new pieces of furniture and other items, that will blend with pieces you have brought with you.
Just because you retire doesn't mean you are old and senile so move to a place that makes your heart sing, revives your soul and makes you happy.
Selling a home that has been yours for a long time is a big wrench on the heart, but if done properly it will be beneficial.
It's not easy. It's hard work, so start now!
Downsizing can be a very emotional and stressful time and no-one whose been through it, will deny that, but in the end it is also a wonderful opportunity for a big, new adventure.
Sylvia Cameron is a Realtor with Russ Lyon Sotheby's International Realty in Sedona, Az in the beautiful Red Rock Country of Northern Arizona. Her website is: www.sedona4u.com and Instagram http://instagram.com/sedona4u